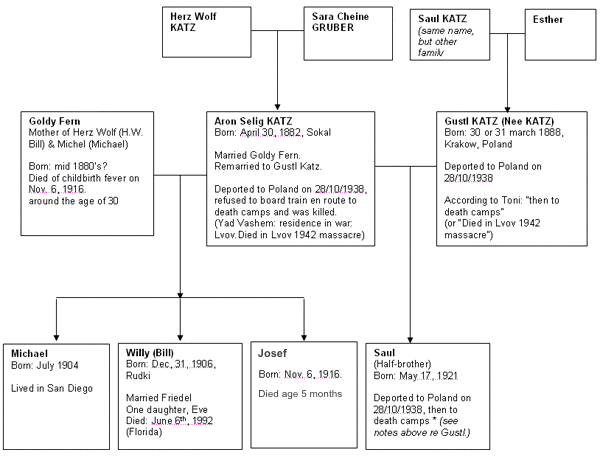 Aron Katz - family tree.
Aron Selig Katz was born April 30, 1882 in Sokal, the son of Herz Wolf Katz and Sara Cheine Gruber.
Sokal PSA AGAD, Lwow Wojewodztwa / Ukraine
Records from: Births 1858-1905
Given Name
Year
Type
Akta
Sex
Father
Mother
Mother Town
Aron Selig
1882
B(irth)
71
M
Herz Wolf KATZ
Sara Cheine GRUBER
Rozdzalów
Aron later moved to Rudki (Austria-Hungary/Poland/Ukraine) when he married Goldy Fern*. There he owned a furniture store.
* In the death record of Josef Katz, the couple's third child, Aron Selig's wife is recorded as "Jenny Fernc".
My father (Bill) was once locked in it and frightened, as a small child, waiting to be "rescued". (Eve Katz)
1906: H.W. Katz was born on December 31st, 1906, in Rudki. He was named Herz Wolf Katz, after his grandfather. He would later change his name to Henry William Katz - H.W. Katz.
Another boy, Michel, was born in July 1908.
1914: The family fled Poland during WWI and came to Gera, where Aron's brother Mathes lived with his wife and daugher.
1916: November 6, 1916: Goldy, mother of Bill and Michel, gave birth to her third son, Josef, and died of childbirth fever. She was about thirty years old. Her son Josef died shortly afterwards at the age of five months.
Eve Katz: "[Bill Katz] was around 7 or 8 years old at the time his mother Goldy died around the age of 30 in childbirth, and was stricken by the loss. Indeed, in some sense, it remained with him always."
1920's: According to Siegmund Spiegel and to my mother, Aron went to the USA in the early twenties, but, disenchanted, later came back to Germany.
Siegmund Spiegel:
"(He came to the US) in the early twenties... for a short time, and (he) went back to Gera. He liked it better in Gera. He had another brother here, (the "unknown" Katz) the one I mentioned earlier, the one I'd gone to see, I forget his name, who had problems, financial problems, and his wife had medical problems... but... he went back!..."
However, according to his daughter, Eve:
"The information … about Aron going to the United States at some point is incorrect. This I am sure of. In my father's first novel, Die Fischmanns, Yossel goes to the U.S. and then returns to his family in Europe. This intrigued me and I asked my father if this had happened. It had not; it is fiction."
19??: Aron Katz remarried. His second wife was Gustl Katz, from Krakow, Poland.
Eve:
"Aron was "talked into marriage" with a woman from Munich named Gustl, née Katz. She was extremely orthodox and my father (Bill) was not happy in that home. He moved out to a furnished room..."

"My father moved out of his home as a teenager, something almost unheard of. He spent much time in Mary's home and often ate in Leo and Frida's home. Saul was of course many years younger than my father and I do not think they ever came to know one another well."
Siegmund Spiegel:
"Gustel was a hard woman. A very ambitious woman. Constantly running. Her husband (Aron) walked around with a cane, very slowly…"
The family lived on HospitalStrasse, in Gera.
1938: October 28th: Aron, Gustl and Saul were deported from Nazi Germany back to Poland, along with 17 000 Polish Jews.
1942: According to an entry by Michael Katz in Yad Vashem, Aron, Gustl and Saul were killed in the Lvov massacre. Toni's entry in Yad Vashem instead reads "deported to death camp"
According to Eve, Aron refused to board a train en route to death camps and was murdered by the Nazis.
Saul Katz
Saul Katz was born May 17, 1921, the son of Aron Katz and his second wife, Gustl.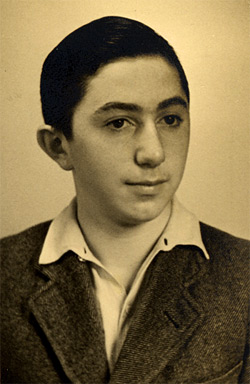 Saul Katz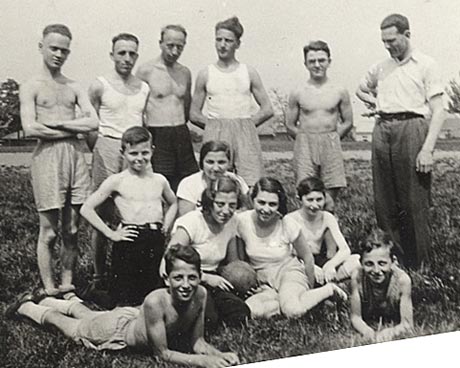 Saul (lying, far right) with the Bar Kochba sports group, 1933 or 1934?
(Photo courtesy of Siegmund Spiegel)
He was deported to Poland with his parents on October 28, 1938.
Ten days after the deportation, Saul sent a postcard to his friend, Siegmund Spiegel, asking if he had managed to contact his uncle Max Katz with the hope that he would be able to help his family get an exit visa to the USA.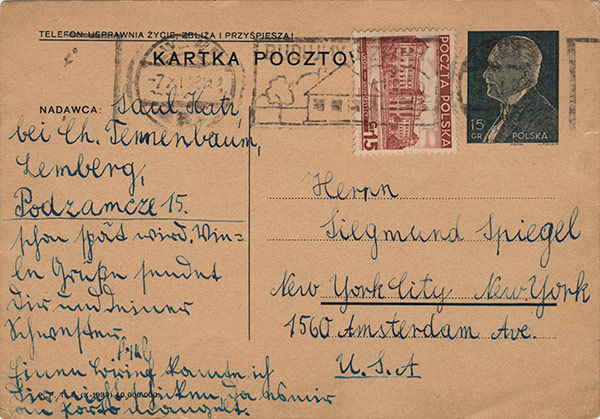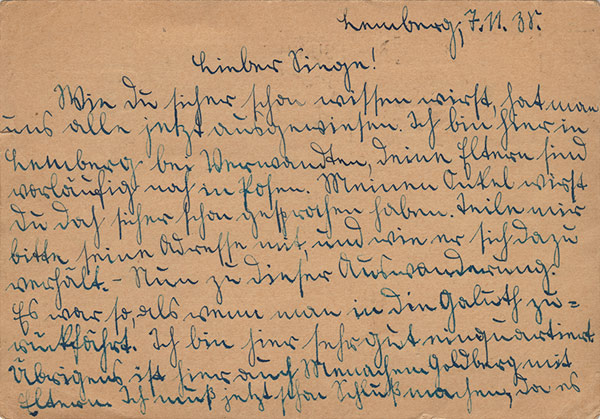 Postcard from Saul Katz, Lviv, 1938
(Courtesy of Siegmund Spiegel)
c/o Ch. Tennenbaum
Lemberg
Podzamcze 15

Lemberg (Lvov, Lviv), November 7, 1938

I'm sure you know by now that all exit visas... (?)

I'm here in Lemberg with relatives. Your parents (S.Spiegel's) are temporarily in Posen.

I'm sure you have talked to my uncle* in the meantime. Please let me know his address and how he reacts to our request.

Now as to this exodus, it was as if one was sent into the Galut. I'm very well situated (?). Also I ran into Menachem Goldberg and his parents.

I now have to cut it short since I can't afford to write a letter, I have no money for postage.

Best regards to your sister,

Saul
Saul was murdered in 1942 with his parents, either "in the Lviv massacre" or in a death camp.
Michel Katz
Michel Katz, Germany, 1930's.
In the 1930's, Michel married Grete, and left Germany for Israel before the war. According to Friedel, it might have been a "marriage of convenience" - maybe to get another person out to Palestine, although they did stay together.
Michel and Grete Katz, Palestine.
Michel lived in Palestine, then joined the (British?) Army and fought in WWII (and probably with the Haganah during Israel's Independance War.)
Michel and his wife then moved to New York in the fifties - sometime between 1950 and 1955, then went to San Diego. Michel and Grete had no children.